Fools on Stools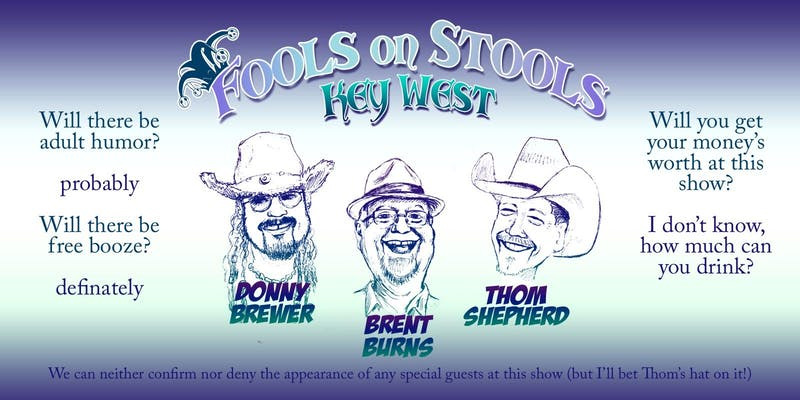 Fools on Stools
Date:

November 1, 2018

Show Time:

7:30 PM – 10:30pm

Location

San Carlos Institute




516 Duval Street




Key West, FL 33040
Fools on Stools returns to Key West and the San Carlos Institute with a comedic musical showdown featuring Donny Brewer, Thom Shepherd, & Brent Burns.
Prepare to laugh and sing along with the 2017 TRMA Entertainer of the Year, CMA of Texas songwriter of the year, and whatever Brent is (I'm sure he did something). They will have you rolling on the floor from the moment they take the stage. And – your price of admission gets you complimentary (that means FREE) drinks. Don't worry about getting there in time from your Sunset Cruise, we won't start without you.
Warning: this show may contain adult language or themes (not that it's coming from actual adults or anything).
OH, and we cannot confirm or deny the appearance of any surprise special guests (but I'll bet Thom's hat on it!)
Doors Open at 6:30 PM
---