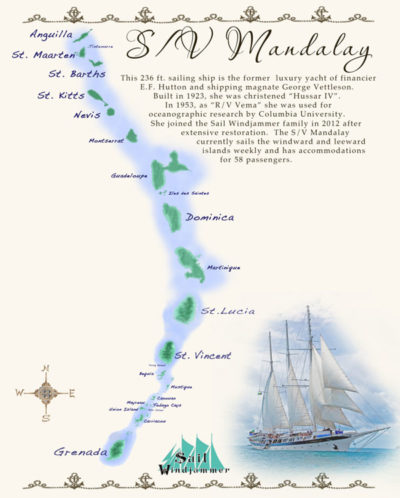 Catamaran Concerts is excited to announce two, one week cruises aboard the tall ship S/V Mandalay, sailing out of Grenada with Singer Songwriter, Eric Stone as our onboard entertainment.
SAVE THESE DATES:
July 7-13, 2019: Departing Grenada, sailing the Grenadines in the lower Windward Islands, returning to Grenada.
July 14-20, 2019: Departing Grenada, sailing the Windward Islands and arriving in St. Lucia.
Stay tuned as more details will be coming soon.
** More Events Coming Soon **
Past Events
2018
Fools on Stools with Donny Brewer, Brent Burns & Stoney Gabel
BeatleBeat, a Beatles Tribute band featuring Charlie DeCosa, Jimi Pappas, Leo Rojo and Willie Rast
Donny Brewer's Blues Review highlighting the bluesy side of your favorite Trop Rock Musicians
2017
Donny Brewer & The Dock Rockers with Special Guests
Mobile Bay Bouys – Wes Loper, Eric Erdman, & Ryan Balthrop
Fools on Stools with Bob Karwin, Donny Brewer, Jim Hoehn & Surprise Guests
Hasten Down the Wind with Brittany Kingery and Rob Hill
The Boat Drunks, Nadirah Shakoor plus Special Guests and MORE!!!
2016
Fools on Stools with Bob Karwin, Donny Brewer, Thom Shepherd & Jerry Diaz
2014
Latitude 38 PHC & PPOCD Sunset Sail (Private Party)
2013
Dani Hoy, Mike Mangum, Key West Chris & Allen Holland, Sunset Sail
Loren Davidson, Kid Conch & Key West Chris, Sunset Sail
Mike Mangum & Greg Shelton, Sunset Sail
2012
Thom Shepherd, Afternoon Booze Cruise
Charlie Imes & Rick Schettino, Sunset Sail
Sunny Jim, Afternoon Booze Cruise
Bob Karwin, Bloody Mary Morning Sail
Capt'n Nick & Capt'n Josh, Sunset Sail
Sunny Jim, Afternoon Booze Cruise
Michael Mangum & Capt'n Nick, Bloody Mary Morning Sail
John Friday & Dani Hoy, Sunset Sail
Michael R. Miller & Dyke Corson, Afternoon Booze Cruise
Thom Shepherd, Bloody Mary Morning Sail
Swim Skinny, Sunset Sail
Michael R. Miller & Dyke Corson, Afternoon Booze Cruise
Loren Davidson, Dani Hoy & Key West Chris, Bloody Mary Morning Sail
Thom Shepherd, Sunset Sail
Jim Hoehn & John Friday, Afternoon Booze Cruise
Dennis McCaughey & Michael Crawley, Bloody Mary Morning Sail